In the article, I describe "dou" has 3 stages; shu, ha, ri. I think "shu" is the most important. Perhaps it is the most Japanese like thought. It is found in zen, and the fundamental training of all kinds of "dou". Recently young Japanese don't take care of the thought of zen.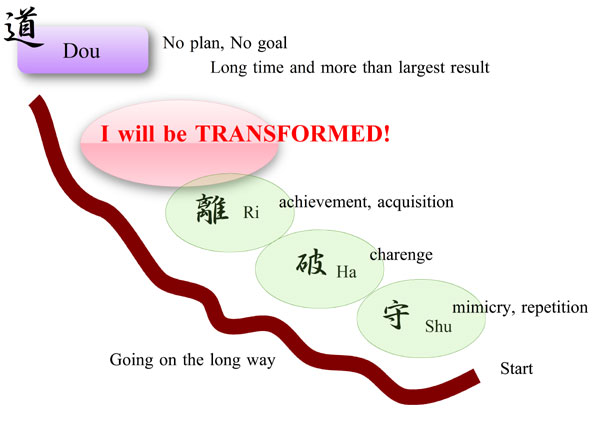 I tell an interesting fact. When I tell "dou learnig method" to young Japanese, most of them don't understand it. When I tell it to elder Japanese, many of them say "What a great idea! It is good education!"
The stage of "shu" requires mimicry and repetition. It doesn't require creativity or originality. Don't misunderstanding. I don't say "dou learnig method" doesn't require creativity or originality. Only "shu" stage doesn't require them. Because real and great creativity and originality will be brought from huge accumulation of mimicry and repetition.
We Japanese call the accumulation "kata" meaning patterns. After we get very many patterns, we and the patterns become oneness. Then we can go to the second stage "ha" which requires creativity and originality.
I cannot tell enough about the importance of "shu". Shu is important for not only study but also humanity. Our family spend long time and large effort on "shu", like Japanese people in old days.